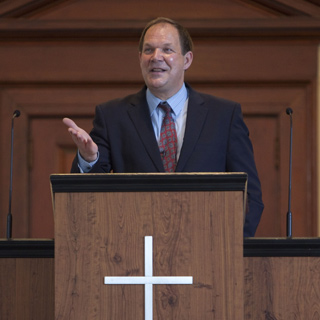 Pastor Jim Martin
Senior Pastor
pastormartin@calvarybaptistep.org
Pastor Martin was born into a Bible-believing Christian home and raised in an independent Baptist Church in Minneapolis, MN. He accepted Jesus Christ as personal Savior as a child. After completing his undergraduate studies at Pillsbury Baptist Bible College in Owatonna, MN, he completed his M.Div at Calvary Baptist Theological Seminary in Lansdale, PA under the leadership of Dr. E. R. Jordan. It was while in seminary that Pastor Martin and his wife became involved in the ministry at Calvary Baptist Church in 1981 and became full time staff in 1983. Since his arrival, he has served at Calvary in almost every way. Pastor Martin now serves as senior pastor.
Pastor Donny McMenamin
Assistant Pastor
pastormcmenamin@calvarybaptistep.org
Donny McMenamin grew up in Philadelphia and under the ministry of Calvary Baptist Church.  Saved and baptized at a young age, Donny was encouraged to be active in the many service opportunities that Calvary provided.  While busy serving in the local church, a love and desire for full-time vocational ministry grew.  Throughout undergraduate studies at Ambassador Baptist College Donny gained a wealth of experience at Devonshire Baptist Church in Charlotte, NC, and in mentorship programs at three other Baptist churches, including a post-graduation, 9 month commitment in Kings Mountain, NC.  An invitation to intern at Calvary was extended in 2011.  After 13 months apprenticeship, Donny was voted in as Assistant Pastor under Jim Martin.  Donny has the pleasure of serving in all areas of ministry at Calvary with his wife Mollie at his side.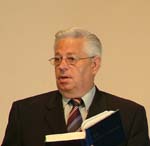 Pastor Mell Hall
Founding Pastor
Pastor Hall was born and raised in the Philadelphia area. After accepting Jesus Christ as Savior as a young teenage he became part of a local church ministry, serving as a layman and eventually deacon. Eventually, God burdened his heart to go into full-time Christian service. After initiating formal theological training at Central Baptist Theological Seminary in Minneapolis, MN, he transferred to Calvary Baptist Theological Seminary in Lansdale, PA when it opened under the leadership of Dr. E. R. Jordan. While completing his training there, he founded Calvary Baptist Church just outside Philadelphia, PA on July 4, 1976. His consistent leadership has ensured that Calvary Baptist Church has been able to stay on the right course, rightly dividing the Word of Truth. Pastor Hall faithfully served as pastor until his retirement in 2008, though he still remains active in the ministry.